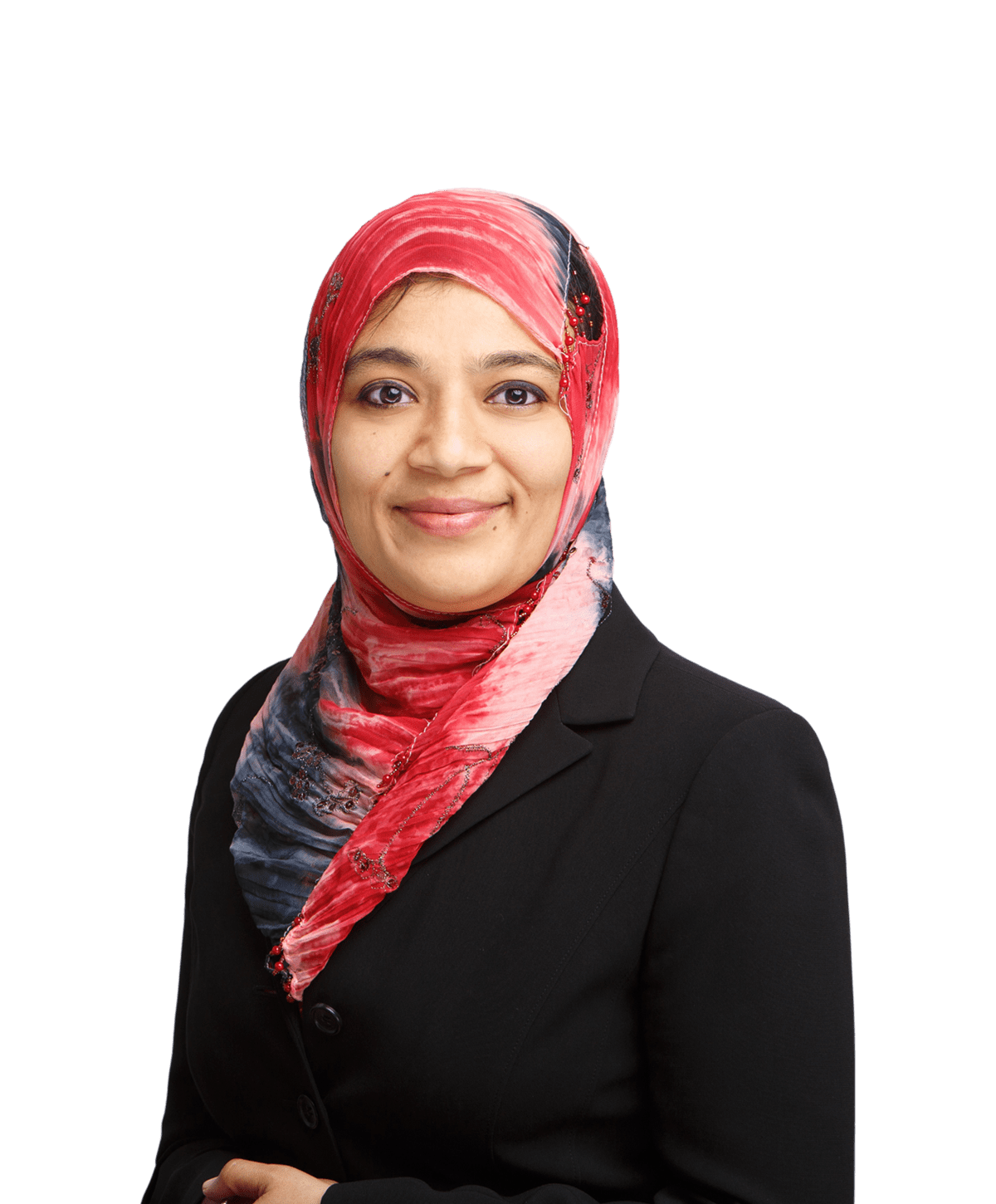 Warefta
Hasan

, Ph.D.

Patent Engineer
English
Urdu
Hindi
Bengali
Arabic
German
French
Warefta Hasan is a Ph.D. chemist with 10 years of experience in the pharmaceutical and chemical industries. Dr. Hasan brings her expertise in nanomaterials synthesis, characterization, and biological applications and analytical chemistry to her work as a patent engineer. Her practice focuses on patent drafting and prosecution both in the U.S. and internationally.
---
Prior to joining Osha Bergman Watanabe & Burton LLP, Dr. Hasan was a process analytical chemist at Hexion Inc. While working at Hexion Inc., Dr. Hasan led analytical method development and implementation in R&D and in manufacturing. This led to the successful implementation of new products, improved performance and increased productivity. Prior to Hexion, Dr. Hasan worked at a biotech start-up, AuraSense Therapeutics (now Exicure) where she developed spherical nucleic acids for therapeutic applications.
Dr. Hasan has authored numerous journal publications and patents; she has presented her work at several conferences, and to date has published 11 peer-reviewed papers and 1 patent.
Select Publications
"Spherical nucleic acid-based constructs as immunostimulatory agents for prophylactic and therapeutic use," Radovic-Moreno, A. F.; Mader, C. C.; Nallagatla, S.; Hasan, W.; Love, A.; Gryaznov, S.; PCT/US2014/048291

"Delivery of Multiple siRNAs Using Lipid-coated PLGA Nanoparticles for Treatment of Prostate Cancer," Hasan, W.; Chu, K.; Dunn, S. S.; Enlow, E. M.; Tian, S.; Luft, J. C.; Napier, M. E.; Polhaus, P.; Rolland, J. P.; DeSimone, J. M.; Nano Letters, 12, 287 (2012).

"Screening Nanopyramid Assemblies to Optimize Surface Enhanced Raman Scattering," Stoerzinger, K. A.; Hasan, W.; Lin, J. Y.; Odom, T.W.; Journal of Physical Chemistry Letters, 1, 1046 (2010).

"Nanofabrication of plasmonic structures," Henzie, J., Lee, J., Lee, M H., Hasan, W., Odom, T.W.; Annual Review of Physical Chemistry, 60, 147 (2009).

"Tuning the Surface Plasmon Resonance of Au Nanoparticles for Optimal Photothermal Response," Hasan, W., Stender, C. L., Lee, M. L., Nehl, C L., Lee, J., Odom, T.W.; Nano Letters, 9, 1555 (2009) – Highlighted by Nanotechweb.org March 19, 2009
Northwestern University, Evanston, Illinois, Ph.D., Chemistry, 2009
University of Virginia, Charlottesville, B.S., Chemistry, 2004
University of Virginia, Charlottesville, Minor in Chemical Engineering, 2004