Case C-395/16, DOCERAM – When are Designs "Solely Dictated" by Function?
日本語
简体中文
繁體中文
Design(s) behind the product are known as a very efficient way for a company to stop a competitor from selling a similar product, even in high tech products (remember Apple's tablet designs?). Registered Community designs are unitary rights that have equal effect across the European Union; they are ruled by EU's designs Regulation (EC) No 6/2002. According to the Regulation, designs that are 'solely dictated' by function will not be protected. But what does 'solely dictated by function' actually mean, in circumstances where the product is merely being used to hold two objects in place during a welding process? This is the question raised to the Court of Justice of the European Union (CJEU).
DOCERAM is a German company located in Dortmund that manufactures advanced ceramic components. DOCERAM has designed ceramic pins blue Cerazur® for welding machines, which are much more durable than conventional steel pins.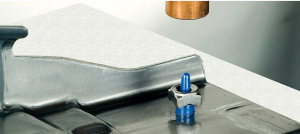 These welding machines are designed for spot-welding together two fiddly objects in harsh environment (extreme temperatures, mixing of various gasses, use of coolants, etc.). The key to their success depends on the ability of the machine to get the to-be-welded-together objects in precisely the correct position so that the automated welding-electrode can then do its work with the requisite precision. DOCERAM pins ensure that everything is properly aligned and held in place for an optimal weld.
DOCERAM pins are protected by 17 community designs that were filed on Oct 19, 2004, for "Centring and positioning pins."
DOCERAM sued CeramTec, another company selling ceramic components, before the German courts, for infringement of their Community Design Rights. All DOCERAM's designed were challenged by the defendant for invalidity: Features of DOCERAM blue Cerazur® pins include conical heads, flat heads, or pins with screw-threads and are dictated solely by function. The designs were declared invalid at first instance. The judgement was appealed before the Oberlandesgericht Düsseldorf (Higher regional court).
In particular, judges of the Oberlandesgericht Düsseldorf had to deal with the interpretation of Article 8.1. of EU's designs Regulation (EC) No 6/2002:
Art. 8. 1. A Community design shall not subsist in features of appearance of a product which are solely dictated by its technical function.
One interpretation of the 'solely dictated' exclusion is generated by asking the question, 'Did the designer have any choice about the final shape of the designed article?' If there is a choice (existence of alternative designs), then the design is not dictated by function. Although the case law seems to support such approach, there are disadvantages. For example, it could be quite easy to make a minor change to a design and make a new design. That would result in a design choice.
A different interpretation to determining the appropriate scope of the 'solely dictated' exclusion is the following. In a situation where a shape is dictated by function, a designer will exercise no design freedom and will exert no relevant design effort and therefore should not enjoy the benefit of a design right. Contrarily, a design will be protectable if it has features on it that are not caused by the function which the designer wanted to achieve. A court could establish this not by the designer subjectively saying what he had wanted to achieve, but rather by the judge using an objective assessment of the design and thinking through whether the features of the design were determined decisively by the functions of the design.
The Oberlandesgericht Düsseldorf could not decide on the correct approach. It did however observe that there had been an increase in the numbers of design cases coming before the German courts, particularly where designed-components were being used in heavy industrial plant machinery or in electrical equipment. Since the German judges also realized that there was no consensus of opinion among the German courts or with the courts in England and Wales, or indeed among the views that had been expressed in practitioner commentary, they decided to refer to the CJEU and asked two questions:
Does a technical function that precludes protection within the meaning of Article 8(1) of Council Regulation (EC) No 6/2002 of 12 December 2001 on Community designs (OJ 2002 L 3, p. 1) also exist if the design effect is of no significance for the product design, but the (technical) functionality is the sole factor that dictates the design?
If the Court answers Question 1 in the affirmative:
From which point of view is it to be assessed whether the individual design features of a product have been chosen solely on the basis of considerations of functionality? Is an 'objective observer' required and, if so, how is such an observer to be defined?

The responses of the CJEU will be of great interest to those seeking to protect industrial components with designs in addition to patents.
Osha Liang will continue to monitor this case and will report on future developments.